Due to the current pandemic, all one on one sessions are now only available via skype and zoom. If you would like to be put on a waiting list for 2021 please contact me via email.  (info@juliewise.co.uk)  Thank you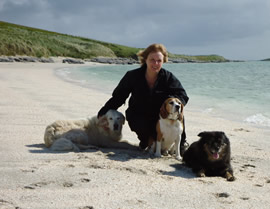 Healing is not about what you do, but who you are. The healing system that I use is called "Synergistic Healing©". Synergistic comes from the Greek syn-ergo which means working together. The Apostle Paul used the word to illustrate a dynamic conception of human, divine and cosmic cooperation. Synergistic Healing© is the opening to the Divine aspect within, which allows "natural" healing to occur. A blend of various aspects are brought together to allow you to work in a spontaneous and intuitive way so that each healing is unique and individual, just as we are. It is my own integration of spiritual, energy and body practices to assist realignment and promote health on all levels: physical, emotional, mental and spiritual. Appointments for a healing session or for an energy massage to realign and assist the energy flow throughout the body can be made by contacting me via email or telephone.
I run 2 year training courses in this healing technique; the purpose of which is to enable the unfoldment of the healer within. This is based on the principle that "those who are healed become instruments of healing" and that "healing demonstrates the truth is true". Our aim is to hold the light at all times, thus becoming a catalyst for the igniting of the light in others.
The course includes Chi Kung and energy exercise, to assist the balancing and strengthening of the physical and energy bodies. Meditation in order to assist a greater anchoring in of the light and a deeper knowing of ourselves. We will also practice various breathing techniques, visualizations, shamanic journeys and sacred mantras to realign, open and connect with the higher vibrations of healing.
The aim is to bring the light in to the darkness and therefore dissolve the darkness. You will learn significant "chi" points on the body, an in depth study of how to work with the charka energy system, the elements and polarity therapy as well as various body centered techniques.
If you require a curriculum see below.
Synergistic Healing Feedback
"The course has been soooo fantastic and has helped me in such a lot in ways I can hardly describe. I am very sad to not be there at the closing celebrations but also want to say to you THANK YOU for sharing so much beauty and wisdom with me. It truly has been life changing"  Paula
"I wanted to say a huge thank you for the energy work we did together last time I saw you. All kinds of things are coming up for healing including long forgotten memories, and I feel surprisingly strong, supported and ready to deal with it all. The transformation in me has helped me to transform my relationship with Jay as well, and things are moving forward in a really wonderful way" Annastasia
"Thanks so much for the love, kindness and divine energy you bring to the amazing work you do – you are magical."  Paula
"Thank you for another amazing and beautiful course….unique and special as you are. You are both incredible facilitators and it was beautiful to see how you both supported the whole group in so much learning and using opportunities as they arose to teach, nurture and empower us all. A course full of the Divine at work".  Renata
"Hi Julie, Thank YOU for an amazing start to the course. I really enjoyed the weekend and feel very blessed to have been able to join the course and a wonderful group of people. You are a brilliant teacher and I am very much looking forward to the October weekend" Renata UK
"Hi julie thank YOU for all you offered this weekend. I have found my work today particularly nourishing and i really kept with me the sense if holding the light."Krissy UK 
"Thank you for another amazing weekend- you and Greg are amazing teachers- I feel so privileged to be learning from you. I did a healing session on a regular client last night- I felt the energy was so much more powerful than before ( my hands stayed very hot for the whole session and I was picking up more) and the client fedback that he felt it to be different and more powerful than previous healings.
I feel that I was a clearer channel- and hope to continue with spiritual practice to maintain that." Maddy UK
"I just wanted to thank you for a fantastic weekend


I felt more in my body on the journey home than have for a long time. It feels like coming home." Madi UK